William Ehrich
© 1951, Reprinted from the American-German Review,
Carl Schurz Memorial Foundation, Inc.,
Philadelphia, Pennsylvania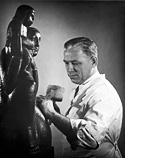 The recently unveiled portrait head of Goethe in Rochester, New York, has drawn considerable attention to its sculptor, William Ehrich. The monument is a result of a movement inspired by the Goethe bicentennial of two years ago and sponsored by a citizens' committee headed by Professor Ewald P. Appelt, head of the German Department of the University of Rochester.
William Ehrich came to this country in 1929 from his home in Königsberg, Germany, having already completed several important commissions. Early in life Mr. Ehrich had a strong feeling for the inherent qualities of the material he used and this led him to work with many varieties of wood and stone to express the quality of both the subject and the medium itself. He has always felt that modeling in clay allows the artist too much leeway, too great an opportunity to waver from the original concept. Wood and stone carved direct, on the other hand, impose sculptural restraint, require careful planning and steadfastness of purpose resulting in severe, lasting sculpture. The works pictured here express a kind of inevitability which is the result of relating medium to subject. The grain of the wood, the texture of the stone join with the design of the figure to express a mood, an idea.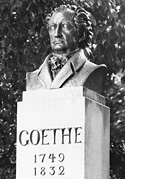 Mr. Ehrich now teaches sculpture at the University of Rochester, sculpture and ceramics at the Rochester Memorial Art Gallery. He was formerly connected with the Art Institute of Buffalo, and he directed the Federal Art Project there for a year and a half. He has had numerous one-man and group shows and has received prizes, honorable mentions and various awards for his work.
The Rochester chapter of Delta Phi Alpha only recently honored the sculptor by awarding him a membership in its honor fraternity.